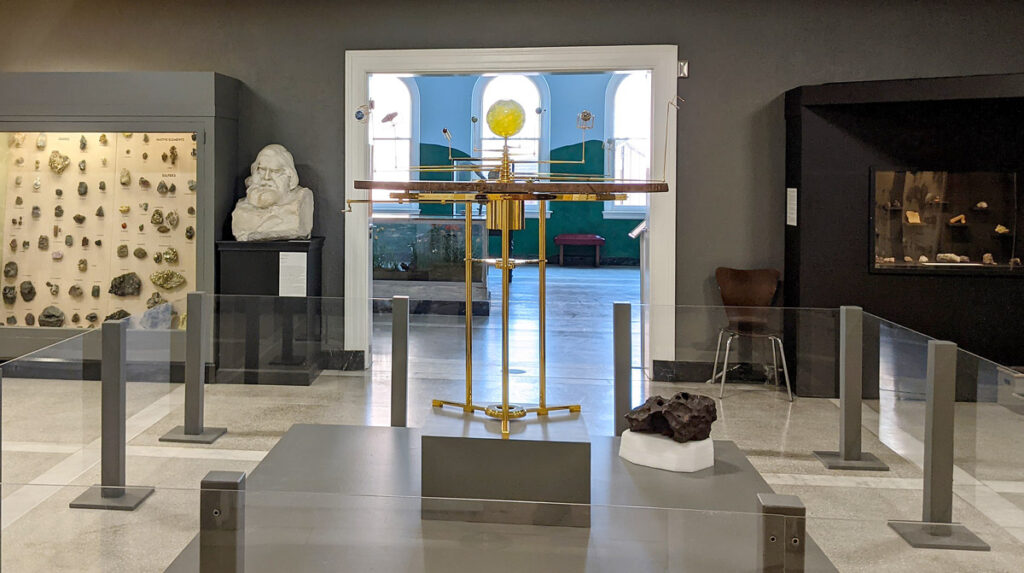 A Rare Collection
Compare and contrast igneous, metamorphic, and sedimentary rocks in their natural state, view a beautiful collection of polished stones, and see a real meteorite. Discover the secrets of fluorescent, glowing rocks and learn about the many uses of minerals throughout human history.
This unique gallery is sure to spark conversations and curiosity among visitors of all ages as you view rock samples alongside stories an examples of those elements used in art and culture, such as Henry Hudson Kitson's marble statue, Brian Boru. At the center of the gallery you will find Erik Van Cort's Holst Orrery which uses stunning glass representations of the celestial bodies in our solar system by artist Josh Simpson combined with a system of gears to plot the location of the planets at any point in time.
A Brief History of the Berkshire Museum's Rock and Mineral Collection
The core of the Museum's rock and mineral collection was amassed by Daniel Clark, a farmer who collected geologic specimens in his spare time, an odd hobby for a 19th century farmer living in the rural New England town of Tyringham, Massachusetts. A passionate collector who began picking up rocks "when four years old" and had rooms filled with rocks and minerals, Clark gathered samples of note from around the world. At one time he was said to have had a barrel full of black garnets, which he refused to sell, despite generous offers, because he wished to exchange them with mineral enthusiasts around the world.
As he neared the end of his life, Clark refused to sell his collection, preferring it to stay in the Berkshires. In 1900, he presented half his collection, numbering almost 2,000 specimens, to the Berkshire Athenaeum and the remainder to Lee High School. Clark died in 1902 at the age of 83.
In 1903 the Berkshire Museum opened its doors to the public, and in 1905 the Daniel Clark collection was relocated the South Street institution, where the specimens were displayed in slant top oak cases and tall cherry wall cases made specifically for displaying the collection.
Since then, the Museum's mineral collection has grown through gifts of noteworthy specimens from various donors. Most notably, in 1977, Mr. and Mrs. Milton S. Cohn, longtime supporters of the Museum's natural science galleries and programs, presented 500 specimens to the Museum for display.
| | |
| --- | --- |
| Dates | Open Daily |
| Times | Open during museum hours |
| Tickets | Included with admission |
| Location | Main floor |
| Perfect For | All Ages |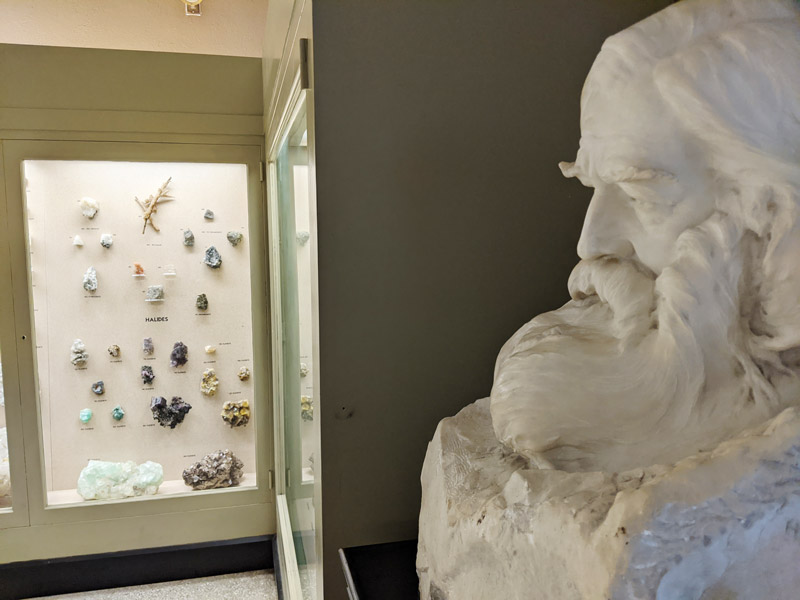 Rock and Mineral Facts
Rhodonite, once mined in nearby Plainfield as an ore of manganese and classified as a silicate, has a rich pink color and a hardness of 5.5 to 6.5, allowing it to be used as a semi-precious gemstone.
The specimen of iron and nickel meteorite weighs 143 pounds and is by far the oldest item in the collection. Some fifty thousand years ago a giant invader from outer space collided with northern Arizona's rocky high plateau, at what is now called Meteor Crater in Winslow, Arizona. Upon impact it exploded into thousands of pieces; the Museum's sample is just one.
The specimen of black garnets or Andradites from Russell, Mass., is among the rarest in the Museum's collection and is perhaps the finest example of black garnets from this location to be found anywhere. Other garnet types are considered semi-precious gemstones, while lesser-quality garnet is used as an abrasive. Black garnet is primarily of scientific interest. While knowledge of the site of the source of the black garnets had long been lost, it was rediscovered in the 1990s, though by that time the supply of black garnets had been spent.