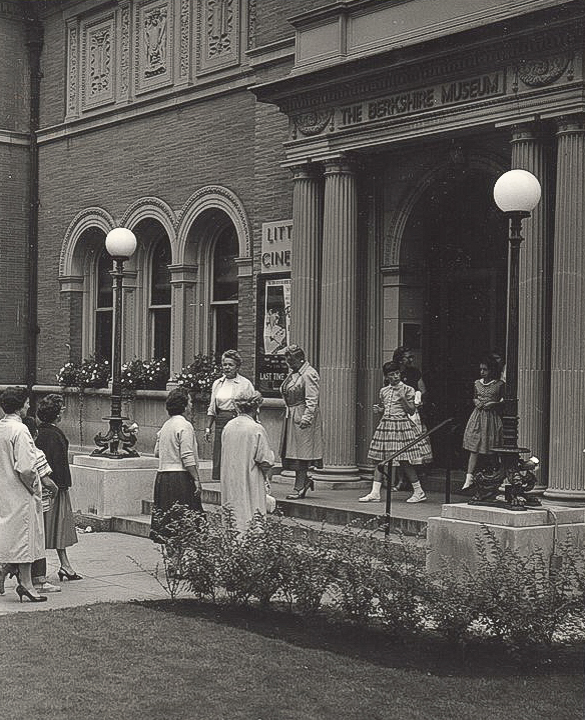 The second installation of our 120th Anniversary celebration takes a step back in time to experience the Berkshire Museum through the headlines of the 1940s, '50s, '60s, and '70s! 120th: Building the Museum – 1939-1978 covers the era in which Stuart Henry was Director of the Berkshire Museum. During his 39 years as Director, Henry led the museum through wartime, museum clubs, record-breaking exhibitions, film screenings, concerts, workshops, and the completion of the "World in Miniature."
The exhibition recalls the formation of the Junior Naturalist Club in 1945, the growth of the Museum's Camera Club, and the filming of the 1968 NBC Children's Theater adaptation of The Enormous Egg by Oliver Butterworth. The film featured four triceratops models designed by the Louis Paul Jonas Studio, the creators of the Berkshire Museum's popular "World in Miniature" dioramas.
Several artworks and objects included in the exhibition come from numerous donations made between 1939 and 1978, such as A.E. Gallatin's large collection of abstract art and the gifts of the Spalding collection of Asian art and the Hahn Silver Collection. The exhibition also examines the rapid growth of General Electric in Pittsfield and its tremendous impact on the population and economy of the region during this period.
| | |
| --- | --- |
| Dates | October 7, 2023 - January 7, 2024 |
| Times | Open during museum hours |
| Tickets | Included with admission |
| Location | |
| Perfect For | All Ages |